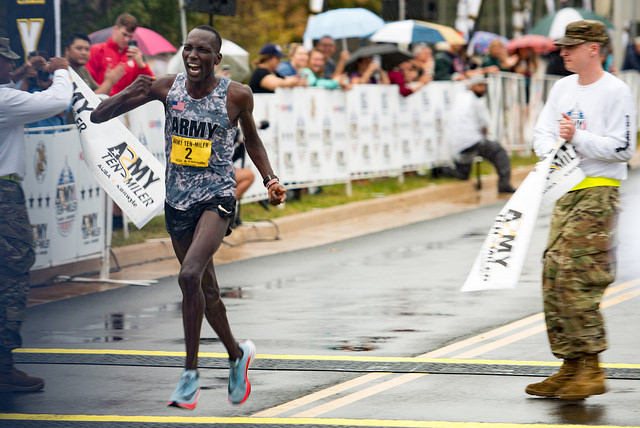 Application Forms
The All-Army Sports application site is currently down for maintenance. Applications for the sports will be completed via DA Form 4762-R and Continuation Form.
For the National Guard and Reserve application please include DA 1058R and DA5960 Forms when submitting application. If your application went thru the Commander approval process prior to the site going down you do not need to complete DA Form 4762-R and Continuation Form.
If you are unsure of the status of your application please send us an email.
View full 2018 All Army Sports Calendar
If you're interested in applying for an All Army Sports team, please fill out the application.
Ready to fulfill your individual athletic potential? Then the All Army Sports Program might be for you. In All Army Sports, Soldiers from Active Duty, Reserve and National Guard compete in a variety of sports at the highest levels to include Armed Forces, USA Nationals and Military World Games. We support Soldier readiness and well-being through athletic performance, military bearing and competitive spirit.
Participants in the All Army Sports Program are called Soldier-Athletes because they must be Soldiers first and outstanding athletes second. Soldier-Athletes must apply to be selected for the All Army program. Soldier-Athletes represent the Army in Armed Forces Sports Championships and national and international competitions.
All Army Sports is a short-term opportunity that may last between four days and up to three months, depending on your sport and whether you're selected for higher competition. It is not a change in Military Occupation Specialty (MOS) or a Permanent Change of Station (PCS).
For more information about All Army Sports, you can email or call +1(210)466-1337.
* Soldier-Athletes must apply to be selected for the All Army Sports Program and require Command approval before they can be considered. Reviewing officials include All Army Sports staff and the Army Coaches of each designated sport. They consider the applicant's background, past performances, athletic awards and sports standards. Applicants have the opportunity to supplement their applications with newspaper articles, letters of recommendation, award certificates or other forms of support.